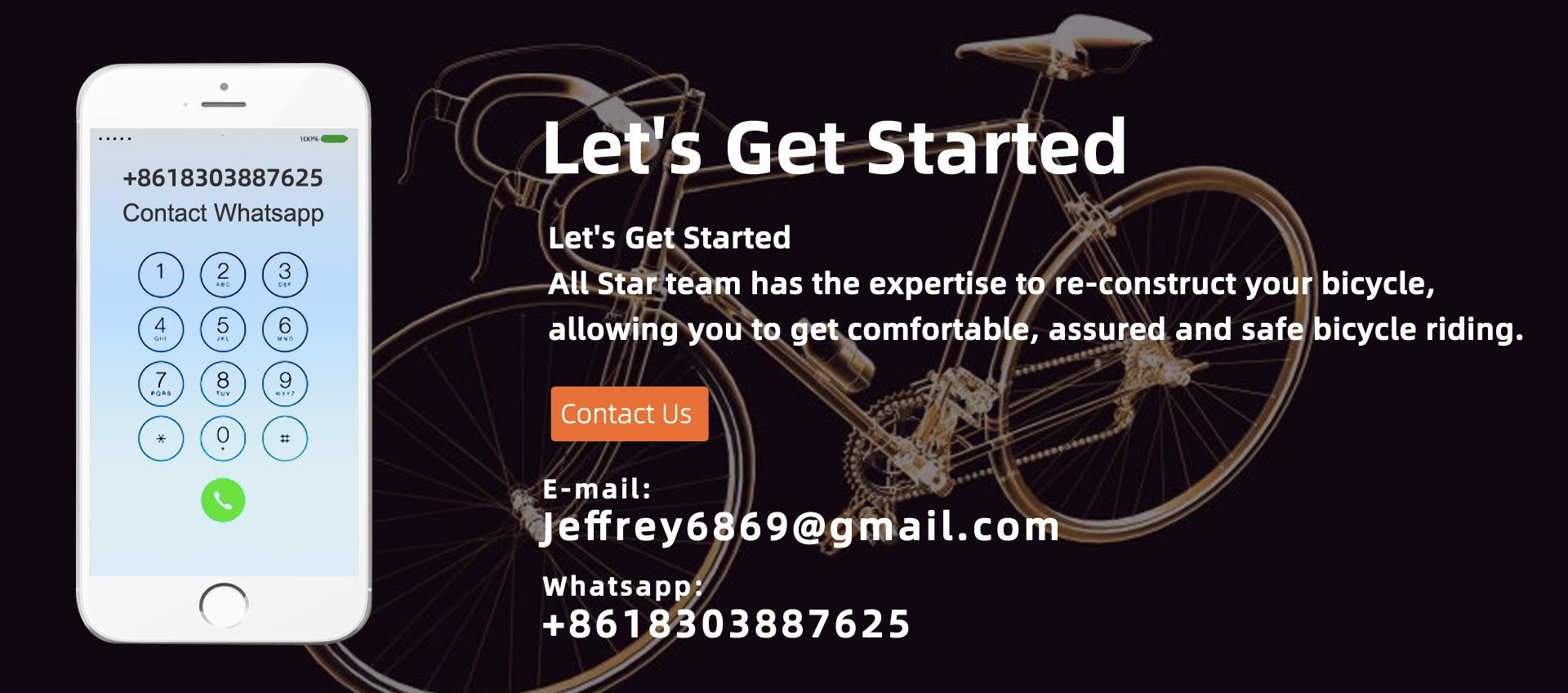 DOGMA F or F14 New Road Carbon Bike Frame V Rim Brake and Disc Brake Disk Bicycle Frameset Handlebar Made Taiwan Ship DPD No Tax
stars, based on
( 34 )
reviews
How are carbon road bikes made?
Raw carbon fibre due to be used for sports equipment ('Pitch' type carbon fibre is used elsewhere) is usually made from polyacrylanitrile (PAN) fibre which is heat treated to take on the shape of long and thin fibres. The greater the treatment, the stronger the carbon will be – stronger carbon requires the use of less material which drops the weight.
Though bike brands can use any description they like, the Japan Carbon Fiber Manufacturers Association (JCMA) grades carbon from 'Low Modulus' to 'Ultra-High Modulus'. The level of carbon awarded is based upon the Tensile elastic modulus (stiffness) and Tensile strength (durability).
Material: Japan Toray T1000 Carbon material.
Frame is made of Japan high quality carbon fiber, by latest EPS foaming technology, inner tube clean and tension concentration, low air resistance design.
>>>. Additional shipping policy:

In order to allow buyers to receive the package quickly and safely.
We launched a new shipping policy XDB and DPD (to provide customs clearance / buyers do not need customs clearance).
But need to pay additional shipping surcharges.
European countries: United Kingdom / Germany / France / Spain / Belgium Luxembourg / Netherlands / Austria / Slovakia / Czech Republic / Hungary / Poland / Italy / Ireland / Sweden / Denmark / Finland / Bulgaria / Estonia / Greece / Lithuania / Latvia / Portugal / Romania / Slovenia.
Shipping time is probably: 12-15 days can be signed to complete.
Type: Carbon Road Bike Frame
Material : Toray T1100 Carbon Fibre
Color : All Black Paint / Customize
Finish: 1k Black Matte / Glossy
Headset Size: Top 1-1/2 (52mm) / Down 1-1/2 (52mm)
Bottom Bracket: BSA 68mm 1.37x24T
Available Size : 465mm / 500mm / 515mm / 530mm / 540mm / 550mm / 560mm / 575mm
Maximum Load: 290KG
QR Wheels: Rims V Brake 100*10mm / 130*9mm QR

Axle Wheels: Through Shaft 100*12 / 142*12mm Disc Brake
Warranty : 2 years
Brake: Rims V Brake or Disc Brake
Weight of Fork : 435g+/-10g (Disc Fork)
Weight of seat post : 288g+/-20g
Weight of Frame: 1135g +/-30g (Size ,50cm Disc Frame )
Frame set: Frame , Fork , Seatpost , Handlebars , Clamp , Headset , 2pcs Axle.
Custom Tax & Import Duty: Buyers Bear The Charges
DOGMA F or F14 Frames Mechanical Variable Speed Installation and Commissioning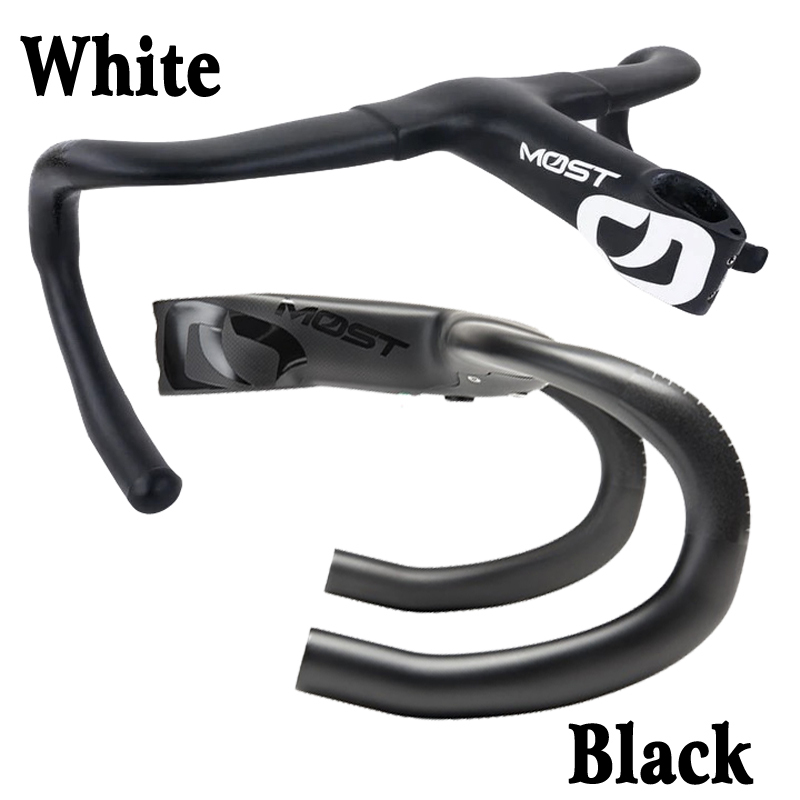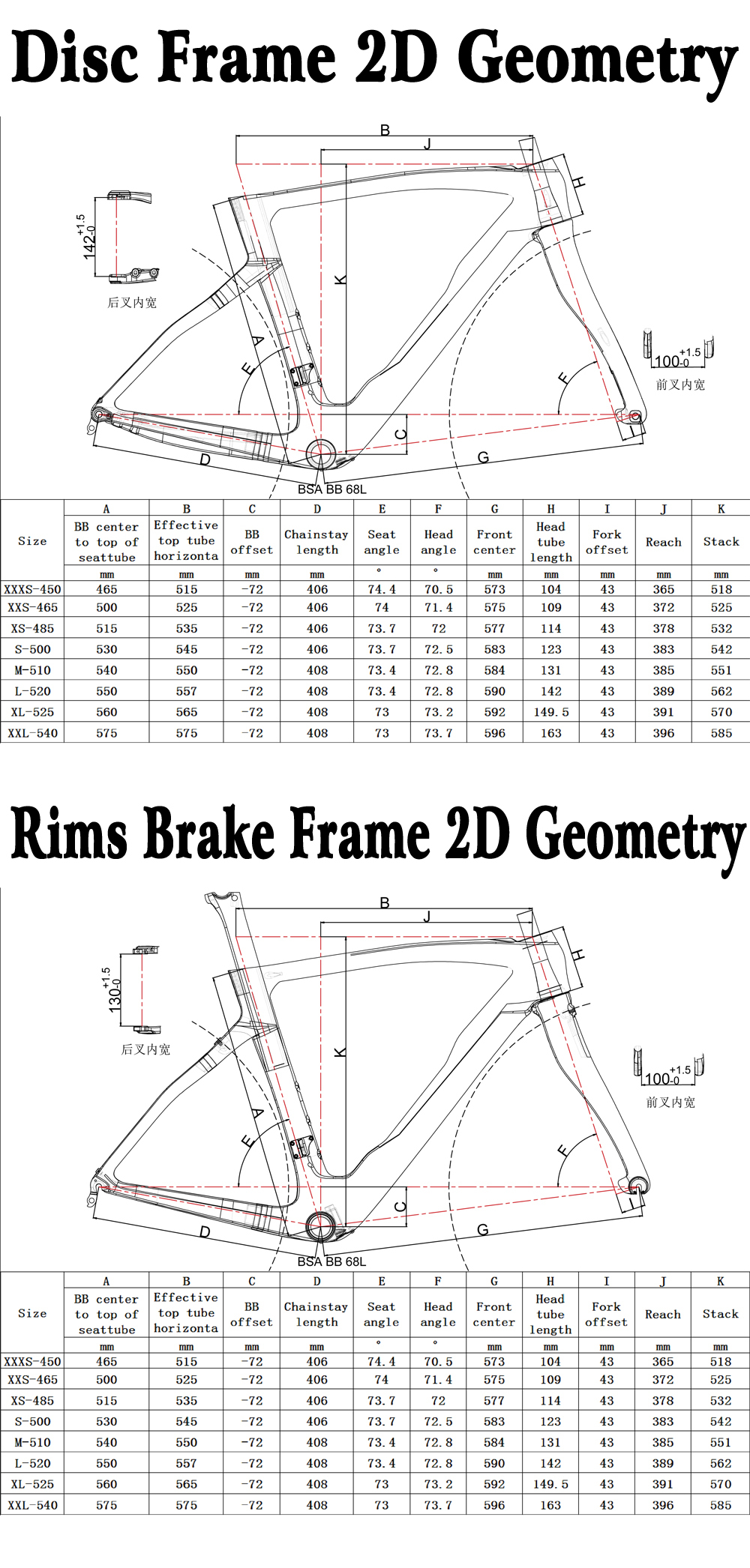 If you are interested in other color frames, please tell us the code frame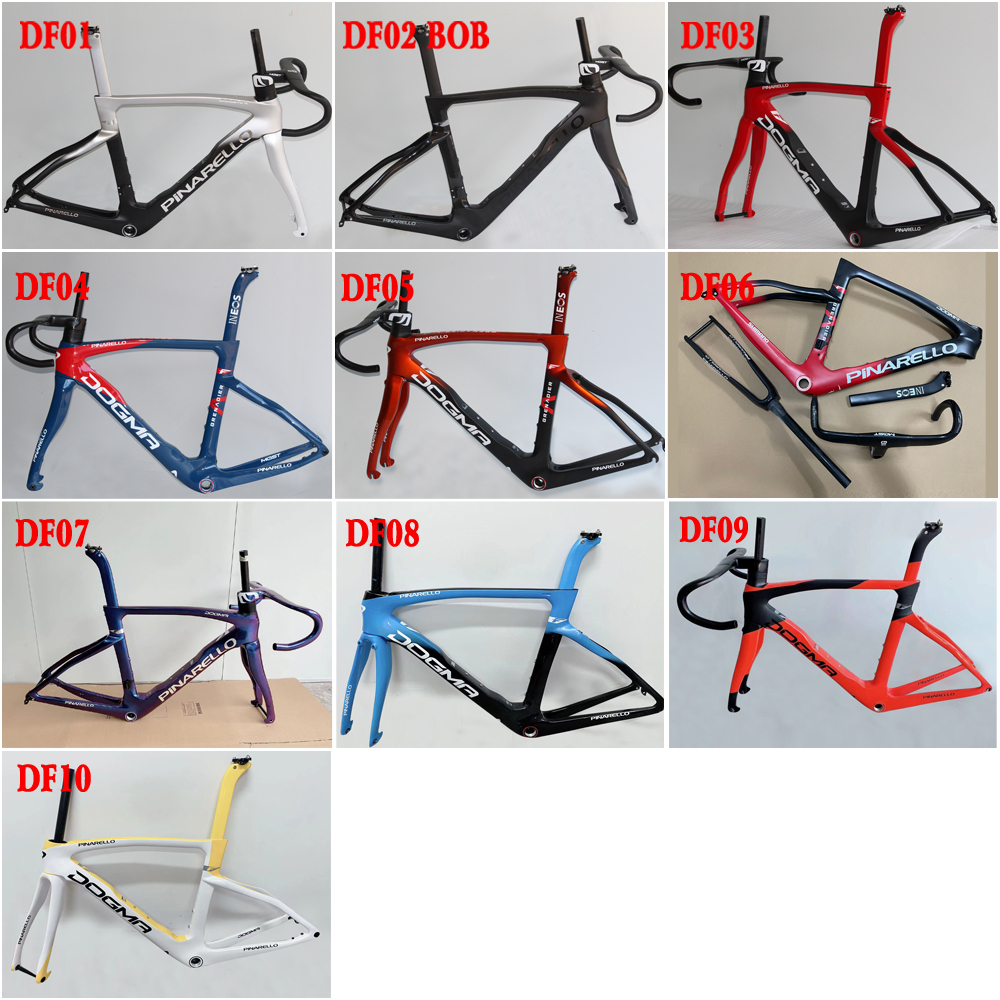 New Dogma F or F14 Road Disc Axle Brake Frameset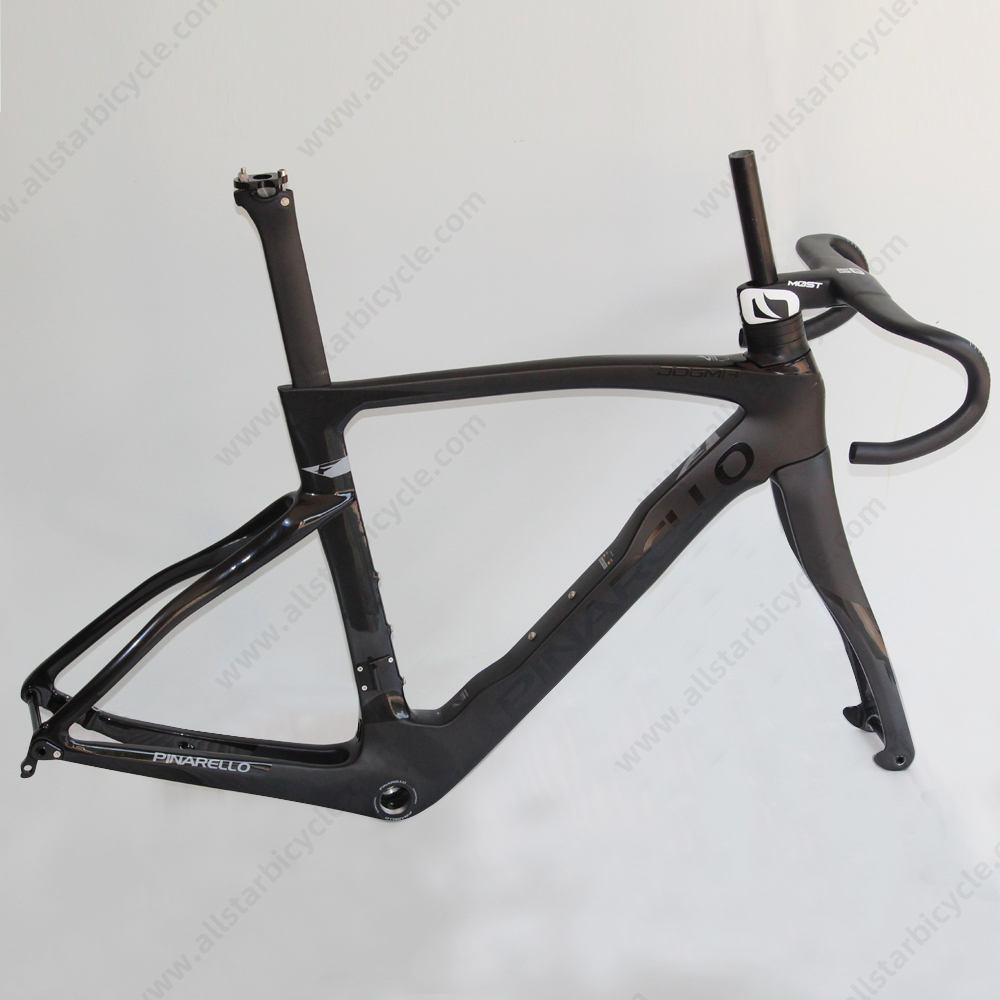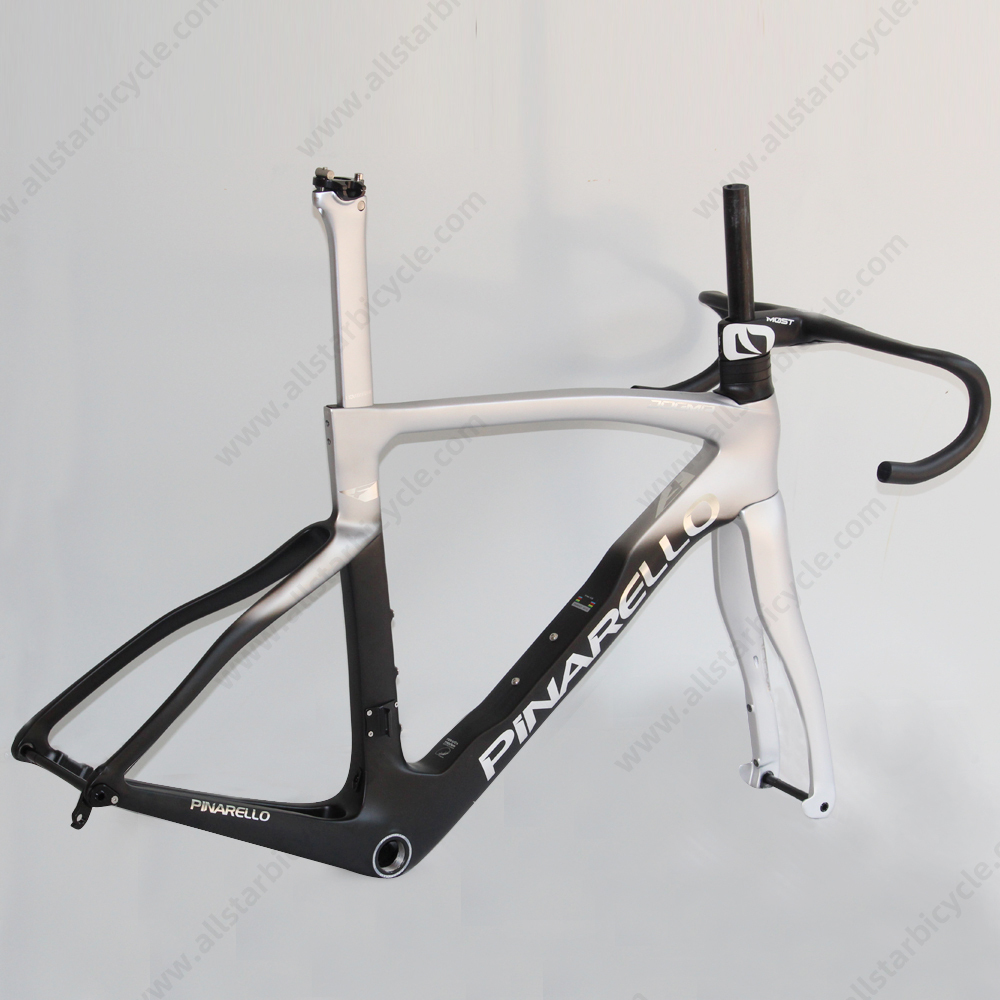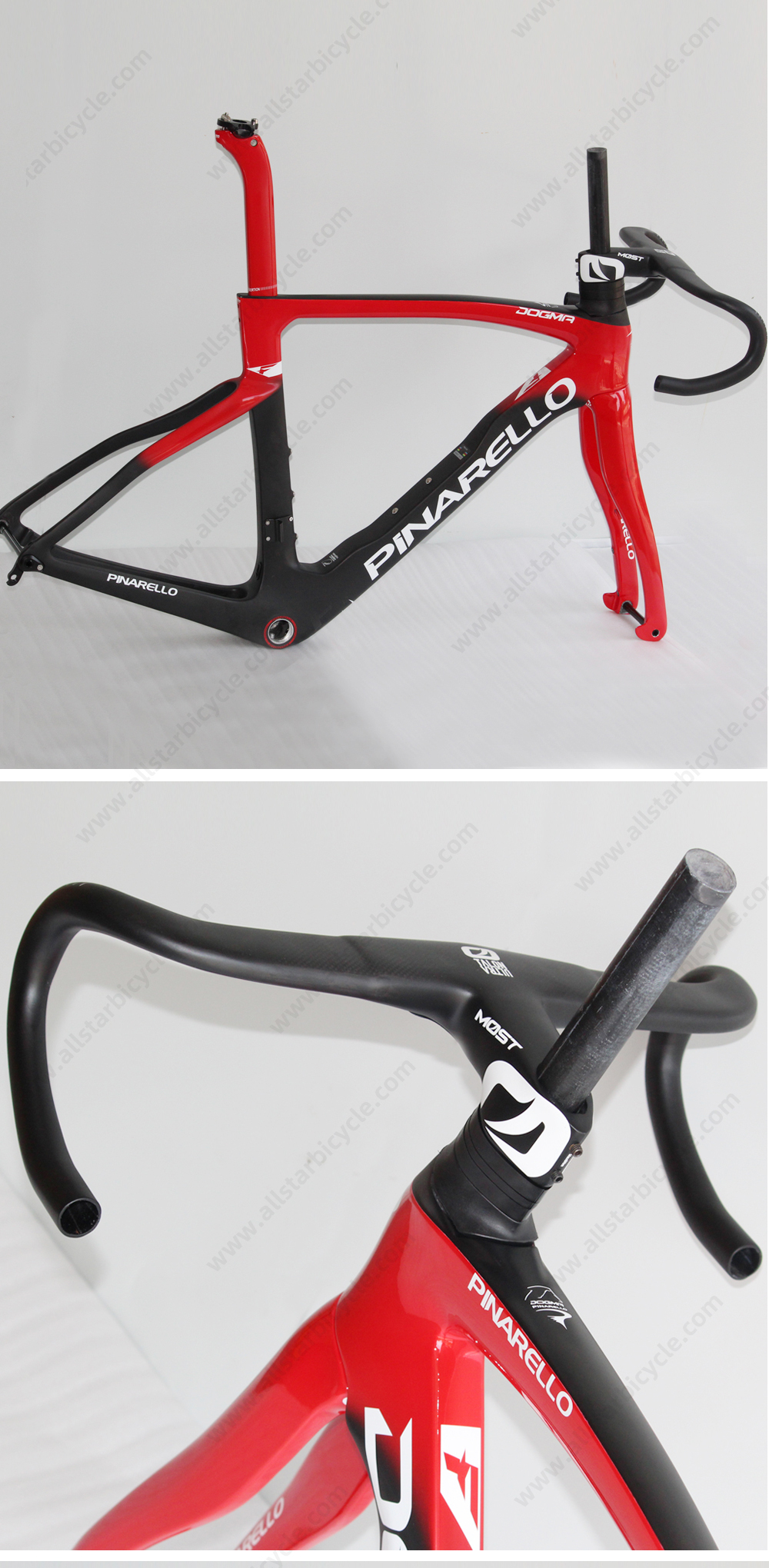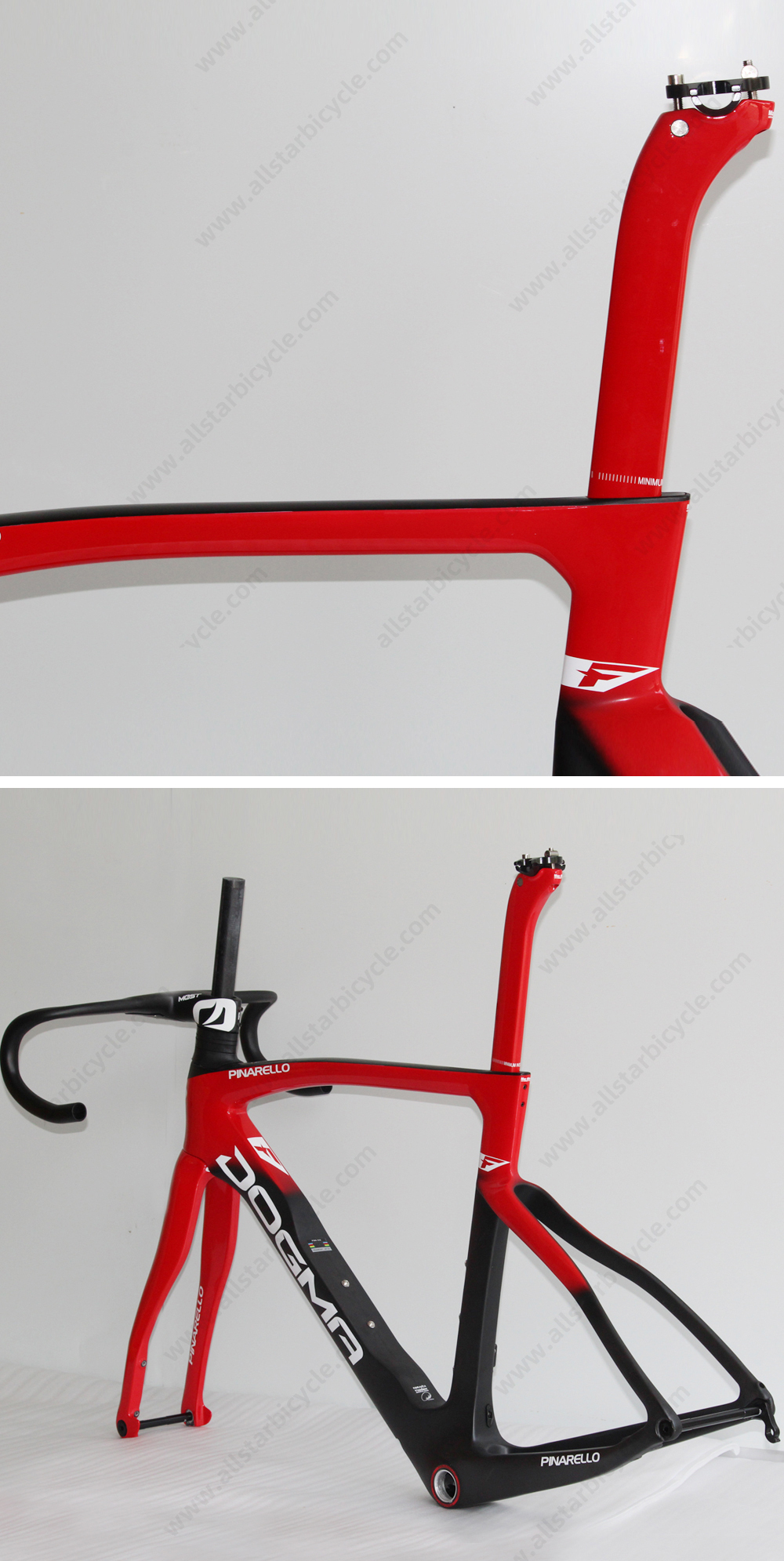 New Dogma F or F14 Road Rims V Brake Frameset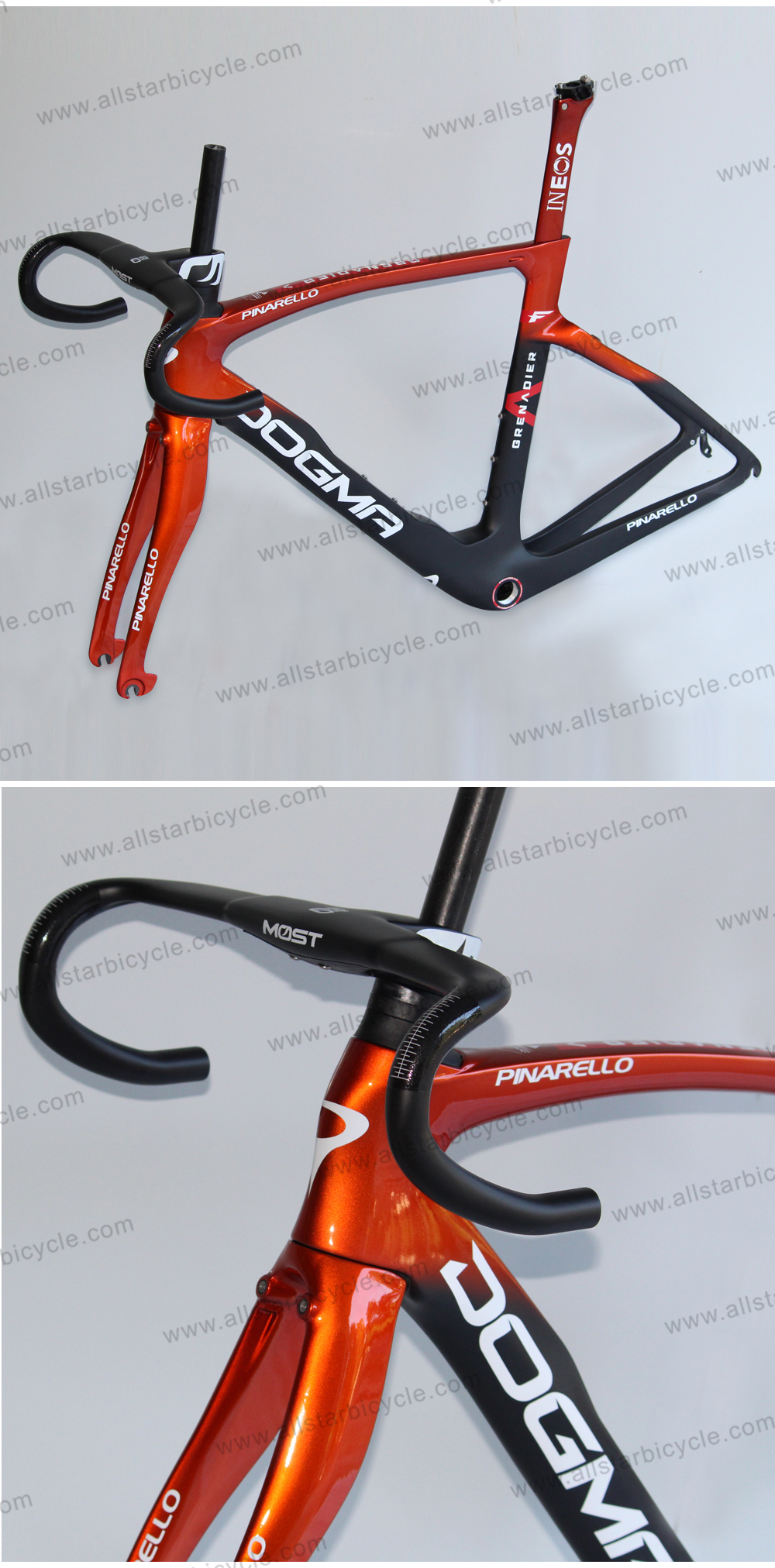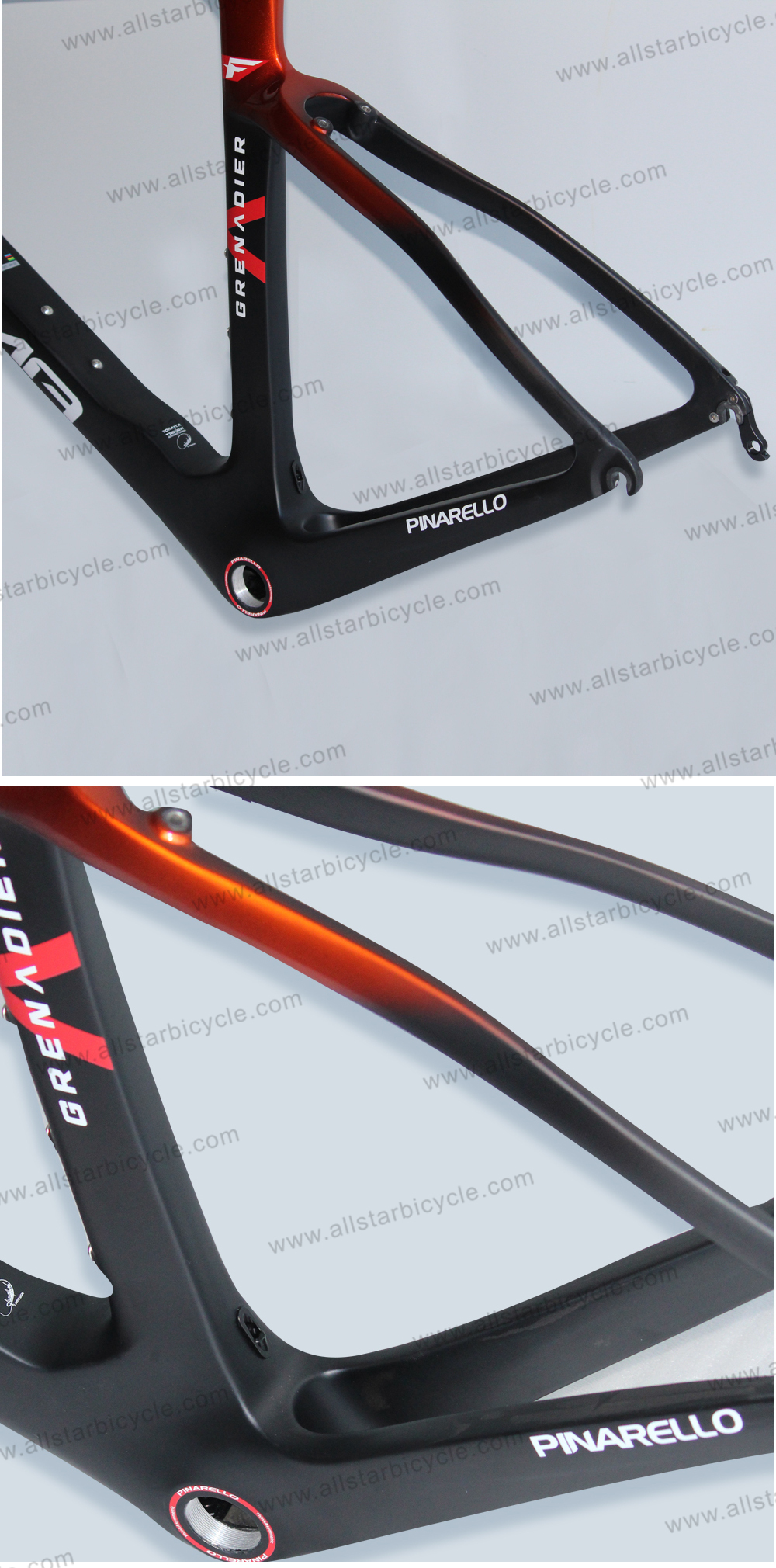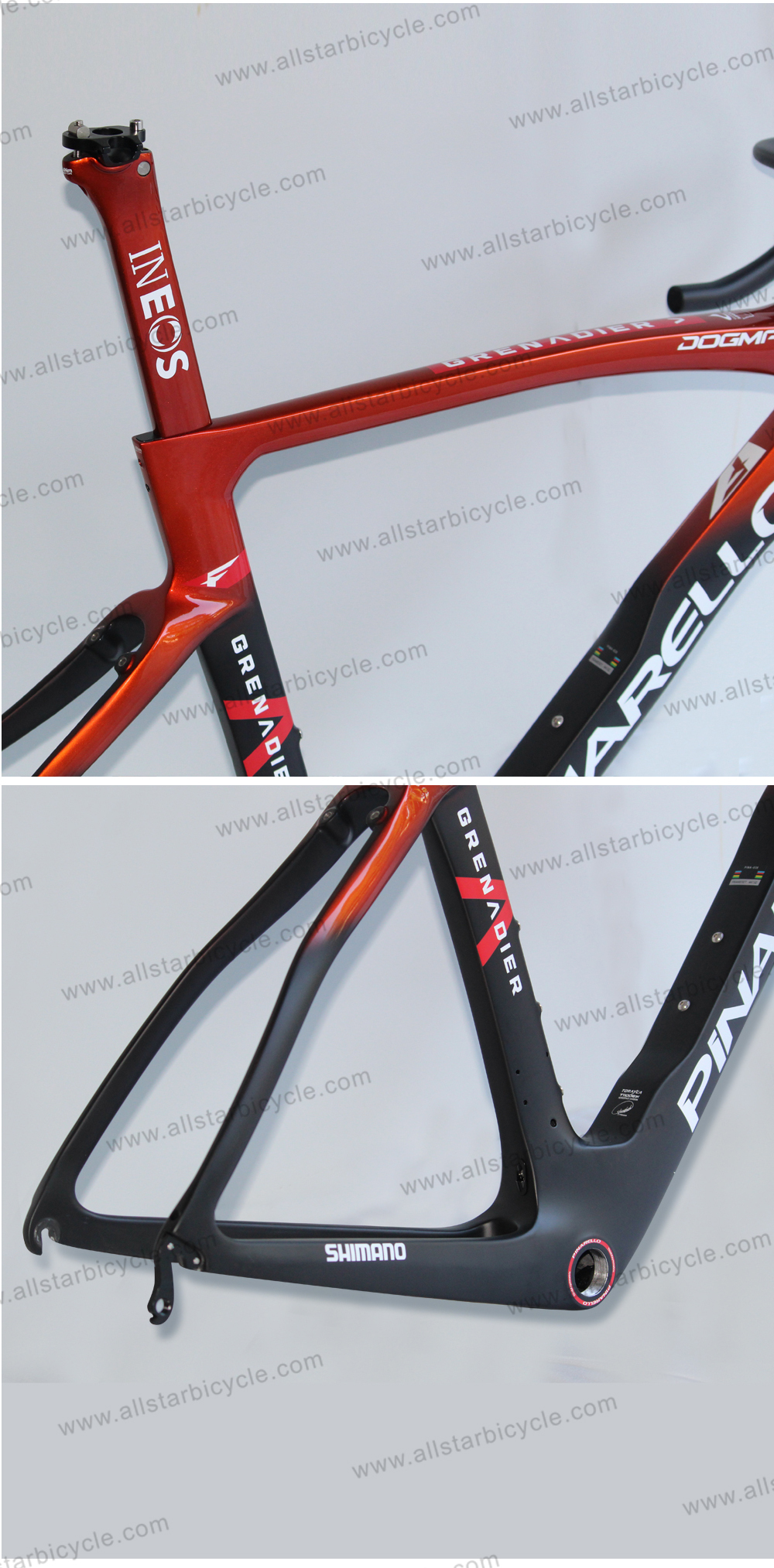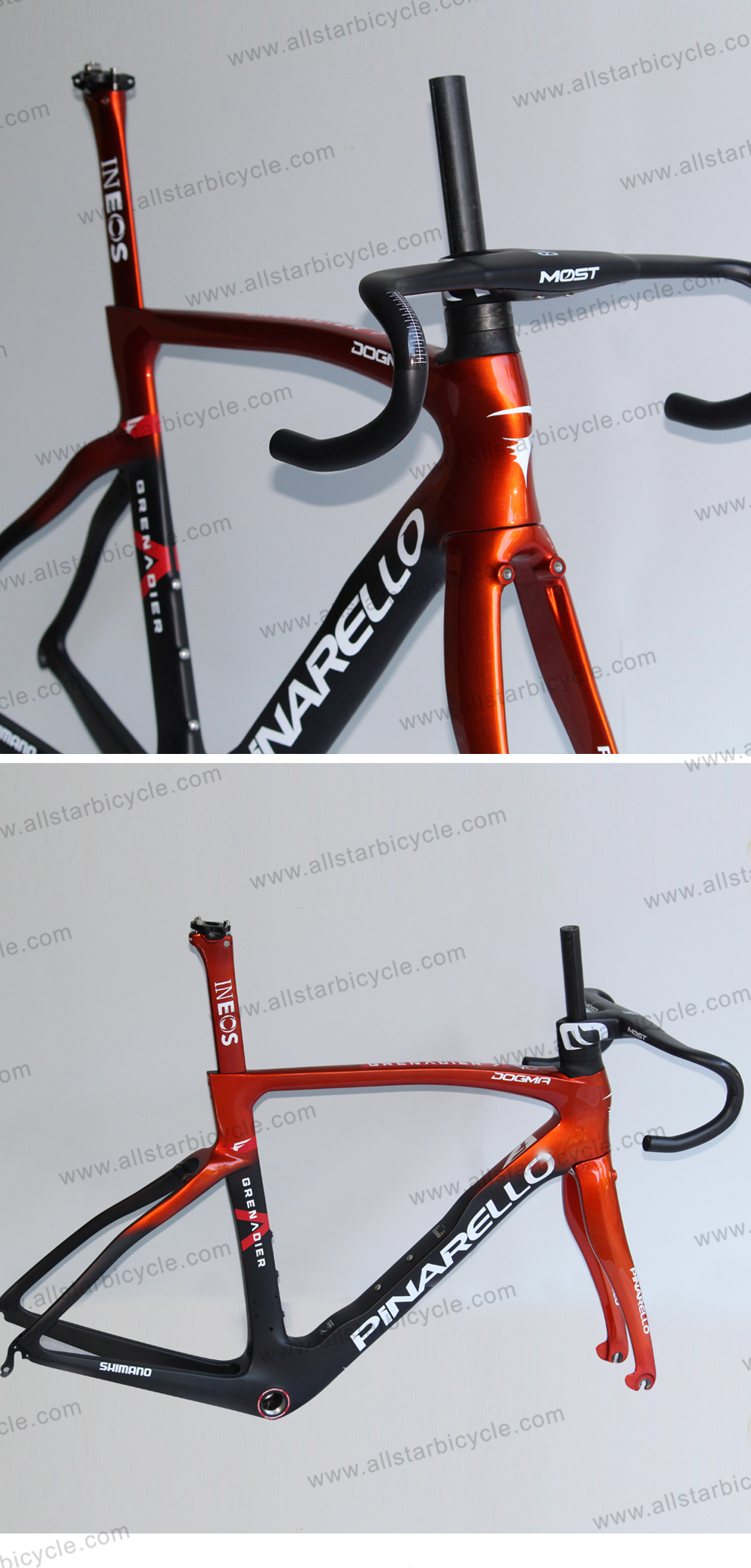 Buyer please read :


We accept payment via Escrow, Alipay, Western Union or PAYPAL.
Pease contact us for instructions if you want to pay in other way or want to buy more quantity.

Full payment must be made within 5 days of placing your order.


About Shipping:


Normally, we ship the goods via EMS or our own forwarder by courier.
If clients want the goods to be shipped by DHL, FedEx or TNT, Please contact us in advance.



Warranty:

All products we sell in our store are in good quality and under strict quality test before shipment.

We will try our best to avoid any quality problem.

We promise warranty for quality in 24 months. We will repair or replace it free of charge if defective part.

was found in 3 months. You will only need to pay the shipping cost if the defects found after 3 months and.

This warranty is non-transferable and valid to the original purchaser of the product only.

The following improper use will void your warranty.

1 Crashes and accidents.

2 Misuse (off-road riding, jumping, trick riding, Cyclocross, etc).

3 Modification of wheels or Improper assembly.

4 Tire pressure exceeding Road Wheels 105-125psi. MTB Wheels 65-80psi.

5 Normal wear and tear.

6 Improper follow-up maintenance or maintenance by an unauthorized technician.

7 Installation of parts or accessories not originally intended for, or not compatible with the rims as sold.

8 Damage or deterioration on the surface finish or appearance which has no effect on the function.

9 Damages caused by natural disaster.
Weight:

Frame:1085g (50 Size) Fork:435g
Use:

Road Bicycles,700C Road Bicycle
Foldable:

No
Model Number:

MB-2085
Size:

440/465/470/500/515/530/540/550/560/575/595mm
is_customized:

Yes,OEM Custom Logo
Material:

Carbon
Surface Processing Mode:

Glossy / Matte,1K or 3K,V Brake or Disc Brake
Recent Reviews ( 34 )
ByㅎㅁㅈㄷThursday, 28 April 2022
BydavidFriday, 28 January 2022
I would give 10 stars if possible. This frame is exceptional. I love it, the feel, the look the quality. Highly recommend and also perfect customer service! Always helpful and responsive. Great experience!
BypaglianoSaturday, 08 January 2022
The frame arrived today. It was exceptionally well packed. Based on the price and safe delivery, all I can say is WOW. Very excited to get on with the build process.
ByktlutzSaturday, 11 December 2021
Take a bit long to arrive but communication was very good and smooth. Frame arrived safely and well wrapped.The tracking wasn't really active and there were no updates so i contacted the seller. Seller provided another tracking link which was active and showing updates. The frame, in gloss black is beautiful! Can't wait to build and ride! Will update here again once fully built and ready to ride!
BykobusTuesday, 30 November 2021
Very good the picture is perfect I tried it yesterday and everything is well worth better than the F12 I had
BymicheleFriday, 26 November 2021
Very quickly delivered, ordered on November 11, the courier brought on December 5, though I accidentally dropped the box with the details, together with the winding it hit the trash when the trash is already taken away, now I will have to buy a carriage and a steering wheel
BywuttoraclubFriday, 26 November 2021
The courier threw it to the apartment. Packed perfectly. No damage. Weight within error.
BymendozaSaturday, 20 November 2021
Item as describe. No scratch. very good paint.
BytzzmcSaturday, 20 November 2021
Цвет огонь!!! Принес курьер домо й!!! до Иваново дошло целое!!!! упаковано было круто!!! Очень переживал за сохранность!!!Продавец молодчина!!!! на первый взгляд все отлично!!! Заказывал Буст версию. Но пока не смотрел буст ли пришла!!! В комплекте рулевая и каретка пресфит!!!
ByanalistenFriday, 19 November 2021
Great frame, but I had no doubts being the second that I order from this seller.
ByxalcimSunday, 14 November 2021
Bike looks awesome, went together easy, haven't had the weather to get out and ride it yet.
ByciresdesireSaturday, 13 November 2021
Envió Rápido. Embalaje perfecto . Comunicación con el vendedor Estupenda. Cuadro precioso , buen acabado y peso mínimo . A disfrutarlo . Gracias por todo .
BygomolemoSaturday, 13 November 2021
Good frame, well finish with internal routing preset. Communication with seller was very good also. Shipping was reasonably fast , considering the custom paint. The only drawback is that the grey custom painting was much lighter than I wanted. The seller did send me a picture before shipment but just looks darker on the picture than in reality... Except that , recommended frame/seller and I will probably buy a second one as soon as I have finished to built this one!
BypipelionSunday, 07 November 2021
Excellent frame, second time I ask and not disappoint, always attentive
ByjdelavictoriaSaturday, 06 November 2021
QUALITY IS WAY ABOVE MY EXPECTATIONS
BykevinSaturday, 06 November 2021
Frame well made and finished
BymartinlorenzatoSaturday, 23 October 2021
So far so good. Frame weighs within tolerance and looks good. Headset seating may need work but overall very pleased. Shipping was very fast to the UK and frame was very well packaged. Headset and Bottom bracket also supplied which is good.Will add photos once bike has been built.
ByrodperezFriday, 22 October 2021
BypiotrlorencsSaturday, 16 October 2021
Built the bike up fully now. Love the frame geometry and seller very responsive. I would recommend buying a spare hanger with the frame as could be hard to find otherwise! Love my bike. 7.8kg with this frame :)
BymilazzoFriday, 15 October 2021
Ordered October 6 and it arrived October 14!! Fastest ever shipping to western US. Great quality frame. Good communication and will do business again.

USD

Your cart is currently empty.